Lower Body Workout Routines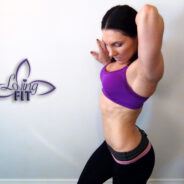 Greetings My Lovies,
Today I have INCREDIBLE Lower Body Workout focused on Butt ( there are some legs in there as well )! I. This workout is going to be in Full Pyramid Style, last week we've done reversed pyramid workout, today the pyramid is going to be full, meaning we will go from low reps to high, then reverse it and go back up. But before we reverse the pyramid we will do 1 bodyweight exercise. The exercises that I've chosen are basic, which we always do, but it's the style in which we will do them that will make a difference in the way we train.
read more