Full Body Workouts
This page is for Full Body Workout Routines only.  You can do full body workouts when you don't have enough time in a week but you're still trying to get your Fit on ;).  You should never do more then 3 full body workouts per week, and you have to take a day break in between.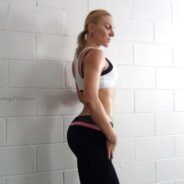 Hello My Lovie-Dovies!!!
I am back with some Madness, yep a full body bodyweight only workout! Next week we will be back to the split routines schedule. I always seem to surpass my self, cause this workout was insane, and it took me quite a while to finish it. I will share my time with you but not right away, cause I don't want to scare you off.
read more