Full Body Workouts
This page is for Full Body Workout Routines only.  You can do full body workouts when you don't have enough time in a week but you're still trying to get your Fit on

.  You should never do more then 3 full body workouts per week, and you have to take a day break in between.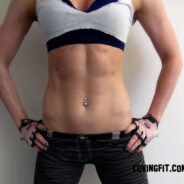 Are you ready to look your best for the epic 2012? I am

, because I've slacked enough this year. In Russia we have this tradition, the way you are going to look and feel for the New Year's Eve, this is exactly how you will spend the whole next year. I am not always the superstitious kind, but this is the tradition I seem to stick with. So this New Years Eve, I am planning on looking and feeling HOT! I hope you are too. I've started my mindful eating and listening to my body diet challenge and I am going to step up my game in my training room.
read more