Full Body Workouts
This page is for Full Body Workout Routines only.  You can do full body workouts when you don't have enough time in a week but you're still trying to get your Fit on ;).  You should never do more then 3 full body workouts per week, and you have to take a day break in between.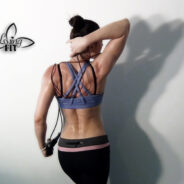 Greetings my Lovies,
I hope you are having a blissful day! Like I told you guys last week, today I wanted to share an example of Fat Burning Mix Cardio that I do twice a week. I usually do this cardio in the morning on an empty stomach. This style cardio I've discussed in my post How To Lose 10 lbs in One Month. You can also change the exercises to your liking, but the intervals should stay the same.
read more