Full Body Workouts
This page is for Full Body Workout Routines only.  You can do full body workouts when you don't have enough time in a week but you're still trying to get your Fit on

.  You should never do more then 3 full body workouts per week, and you have to take a day break in between.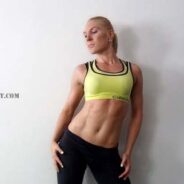 Hello My Lovies,
I hope you missed me cause I am back to torture you once again

. I took some of your votes on my Facebook, today I either wanted to do a new Abs Routine or a Full Body Workout and about 90% of you picked a full body workout. So here it is and it's only about 20 minutes long, or less.
read more