Full Body Workouts
This page is for Full Body Workout Routines only.  You can do full body workouts when you don't have enough time in a week but you're still trying to get your Fit on ;).  You should never do more then 3 full body workouts per week, and you have to take a day break in between.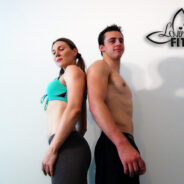 Hello my Lovie-Dovies!!!
I'm super duper exited about today's workout! Because today we have a guest who bravely performed one of my workouts. His name is Renato, he works with my husband Miguel at Cirque Du Soleil show La Nouba, he also does flying trapeze. I wanted to really challenge him so I made up a really intense Full Body Workout, plus it's been a while since I've done a full body workout video. I was coaching Renato throughout the video and I really enjoyed this kind of format. I definitely have to say he did a great job especially for it being his first Loving Fit workout and his first time filming a workout video.
read more