Full Body Workouts
This page is for Full Body Workout Routines only.  You can do full body workouts when you don't have enough time in a week but you're still trying to get your Fit on

.  You should never do more then 3 full body workouts per week, and you have to take a day break in between.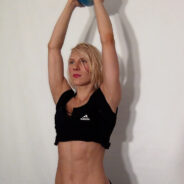 Today I did a really fun workout using an 8lb Medicine Ball. It was a circuit workout made up of 5 exercises. Using a medicine ball is very different then just using a dumbbell, because you can use half the weight but get a way more intense of a workout. I wrote about the incredible benefits of a medicine ball in one of my older posts.
As you can already tell by my body, I like to keep it lean and toned, but I don't like to have bulky muscle, and the workouts that I do will give you just that.
read more