Full Body Workouts
This page is for Full Body Workout Routines only.  You can do full body workouts when you don't have enough time in a week but you're still trying to get your Fit on ;).  You should never do more then 3 full body workouts per week, and you have to take a day break in between.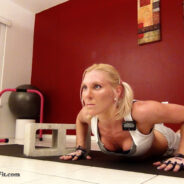 Today's' workout was really fun and it was some serious cardio! I absolutely loved this workout, it was tough, not boring and all over the place!
It was 30 minutes long ( my perfect number 🙂 ) and it had 7 exercises total. In the last round I was really struggling and loosing my breath, but I felt incredible once I was done.
read more