Workout Routines
From now on I decided to start separating "Upper Body Routines" and "Lower Body Routines" into different pages.  If you go to Exercises and Workouts, then Workout Routines, you will see another window that says Upper Body Routines.  I will also add a Lower Body Routines page as well.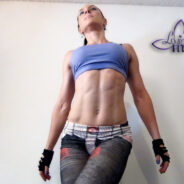 Ola my Lovies,
Happy to peek out again

, I have a new workout for you guys, but this is a second modified version of the original workout that I've created. I've created this crazy long reversed pyramid routine and it took me over an hour to complete, so I decided to modify it and not make it less insane.
read more